Notice of Construction
Peach-Salwein Creek Salmon Habitat 
Vedder River Floodplain, Chilliwack, BC.
Date: September 3 to 31, 2019
Background:
The Vedder River is an important salmon stream that connects many upstream habitats to the Fraser River, and ultimately, the Pacific Ocean – Salish Sea.  At two key locations along the Vedder River, there is opportunity to create additional adult salmon spawning habitat and juvenile salmon rearing and overwintering habitat and through the construction process create salmon viewing opportunities!  To learn more check out the media fact sheet here.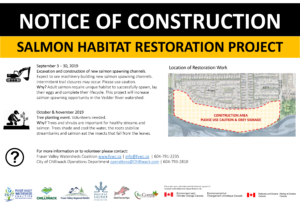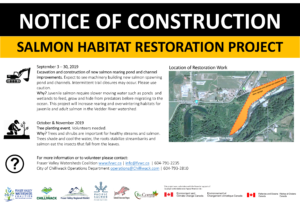 Anticipated Works & Timeline:
Enhancement and restoration efforts will include the creation of new salmon habitat (with the use of excavators and machinery) and replanting the area with native trees and shrubs (with the help of community volunteers).
-September 3-31, 2019 – Salmon habitat excavation activities involving heavy machinery. Lead by FVWC and DFO
-October 5, 2019 – Volunteer Community Planting Event! Want to help us replant trees and shrubs? Please sign-up by emailing info@fvwc.ca (We appreciate your help in enhancing our waterways).
Funders and Partners:
This project has been funded by the Pacific Salmon Foundation, Environment Canada's Environmental Damages Fund, City of Chilliwack, and has been supported by DFO Resource Restoration Unit, DFO Community Advisor, the Fraser Valley Regional District, Parr Road Green Depot and many volunteers. Thank You!